The Miami Arts Project: onriver.org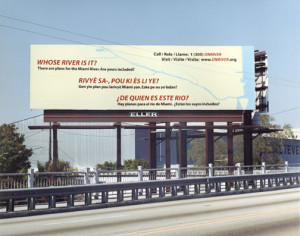 For the 2000 Miami Arts Project, artists were invited to use outdoor billboards to call attention to the development of the Miami river. 
Participants include Dan Graham, Carrie Mae Weems, Jack Pierson, Mark Robbins, Stalker, and Andrea Robbins and Max Becher.
Robbins/Becher created several billboards which ask "Whose River Is It?" in English, Kreyol (Haitian), and Spanish, the three dominant
languages of Miami. It also says: "There are plans for the river. Are yours included?" and gives a local number
to call and a website to visit.
The site is no longer on the web. Click here to see two sites that document the projects: Peter Lang, stalkerlab
Swipe to view images